Viewpoint: How One Company's New Wellness Program Took Off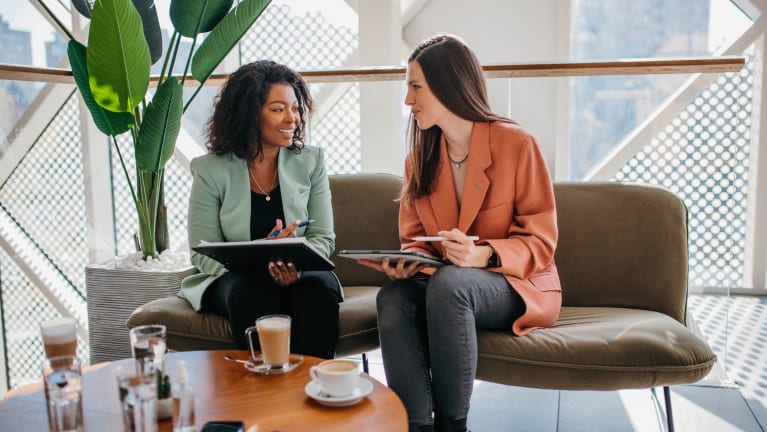 By Anne Marie Kirby
September 26, 2022.
Originally published here
Corporate wellness programs can range from free-flowing to highly structured, and the rewards can vary from getting a free T-shirt to winning a medal in a marathon.
The most telling measure of success is employee buy-in. At the best of times, building and sustaining any health-oriented regimen within a corporate environment is a difficult task that demands commitment from employees and the employer. Combined with a pandemic, that task might seem almost insurmountable.
But Sobora Duy, manager of mental health and wellness for Air Canada in Montreal, likes a challenge, such as making a public promise on social media to lose more than 40 pounds. "Failure is not an option," said Duy, who blogged daily about his weight loss journey, posting one shirtless photo every day for 100 days. Correcting poor eating habits, getting proper rest and exercising consistently led to his success.
When Duy was assigned to amplify the Air Canada Wellness Program, he applied that same commitment to the task. Prior to moving into his wellness role, Duy worked in several different departments across the company, including the Customer Service Contact Centre, where he developed an understanding of business and customer perspectives, global differences for employees across six continents, and sensitive union/management issues. In short, he had an in-depth understanding of the corporate culture.
Wellness During a Pandemic
Then COVID-19 arrived. The pandemic proved extremely difficult for all Air Canada employees, in particular because the aviation industry had never faced such a challenge. During the height of the pandemic, the company laid off nearly 50 percent of its employees, raising anxiety and lowering morale among the remaining workers. This accentuated the need for a wellness resource that offered practical help and direction.
Duy summed up his initial assessment of the existing program by saying it needed a restart. He updated tools and resources to increase participation. For instance, webinars on wellness began taking place on a regular basis, instead of on occasion, and focused on topics such as financial wellness and smoking cessation. Each event gave employees the opportunity to ask questions and get answers from experts.
Duy realized his first priority was getting buy-in from employees who were anxious about COVID-19 and employment, among other concerns. Boosting engagement meant building relationships one by one with employees to gain endorsements and positive word of mouth. This was accomplished with the use of Yammer, the airline's internal communication channel, where employees participated in contests and won company swag.
In addition to gaining employee buy-in, the wellness initiative also needed to establish an identity and focus. To that end, Duy and his team developed a new social media platform to promote two-way conversations and share professionally produced videos that included employee stories about dealing with wellness topics across four health categories: Work, Mental, Physical and Financial, all under the banner of "Unlock the Best in You" (UBY).
Built on CoreHealth's comprehensive wellness platform, the UBY site quickly became known as the "People's Platform," educating employees in a straightforward manner about how to deal with personal and workplace issues, with some employees choosing to share their individual experiences. The site also features blog posts, videos and testimonials that showcase support for employees.
Content was based on the guiding principle that challenges exist in every professional role, whatever the industry. Although the UBY initiative received strong buy-in from the senior leadership team, the site would not be seen as a "top-down" effort.
Instead, Duy applied his contact center experience, which taught him that "every employee can be an inspiration." Duy's manager, Air Canada Chief Medical Officer Jim Chung, was also instrumental in supporting Duy and his work to grow and optimize the UBY program.
"Air Canada's senior leadership have made employee well-being a key priority in recent years," Chung explained. "Having Sobora as our manager leading wellness was a key piece of the strategy in order to evolve the wellness experience for our employees. He has been instrumental in driving engagement, creating innovative new services and fresh content."
Wellness in All Facets of Work
The UBY program represents a sizeable investment by Air Canada. Consider food and its connection to people's mental and physical health. UBY looked at the options offered in the company's cafeteria and got approval to ensure healthier meals and vending machine snacks were made available to employees. The employee gym at the company's headquarters in Montreal is in the process of being rebuilt into a state-of-the-art facility, and other locations are scheduled to be upgraded, too.
UBY logos printed on free items given to employees helped to reinforce awareness of the program and its values. The visibility of UBY swag became another strong indicator of broadly based employee engagement.
Recently, UBY's "10 at 10" (a 10-minute break at 10 a.m. every Wednesday) was introduced to motivate employees to take a break from their work and computer screens and move around. The program caught on quickly, with dozens of employees joining the activity both in person and virtually through a session hosted outside each week. Air Canada employees have been sharing their "10 at 10" experiences externally and internally via Yammer, and the participation level has risen to more than 100 employees per session.
The goals of UBY, beyond encouraging health and well-being among Air Canada employees, are difficult to quantify. However, internal research has found a significant upswing in employee participation in the UBY program, and employee perceptions of Air Canada's internal culture have shifted to showcase a company that truly cares about the people it employs.
HR knows that employee retention can help lower recruitment costs in a competitive technological environment and that a platform like UBY helps to retain employees. A case in point: Duy's efforts are designed to meet employee needs and strengthen employee engagement and are strongly supported by corporate leadership. So far, all signs point to a program that benefits Air Canada employees and the company.
Anne Marie Kirby is managing director of Carebook Technologies Inc. Prior to co-founding the company in 2004, she held multiple technology leadership roles as a software engineer in the health industry. Recognized as a leading female entrepreneur by Canadian national award panels, Kirby has been at the forefront of health and wellness innovation.